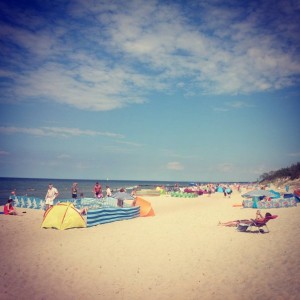 One of Mielno's biggest attractions is the sea – clean waters and safe beaches. This popular swimming resort has got one of the best guarded beaches in the country.
For those interested in sailing we have a Jamno Lake. It ranks a 9th biggest lake in Poland and attracts dozens of water sports enthusiasts. Lake is connected with the Baltic Sea by a channel. Chartering of yachts is also possible, but it is advisable to make such arrangements in advance.
Apart of that Mielno is full of the night clubs and this makes Mielno a perfect destination to enjoy water sports during the day and entertainment during night.
If you wish to spend time in Mielno on the bicycle there is a website that can help you to plan your cycle touring. Click here to find maps and pictures of cycling routes.