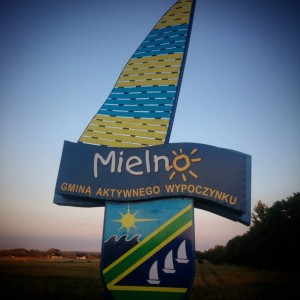 Would you like to spend next blissful summer basking on a beautiful sandy beach? Come to Mielno and you will experience some of the best beaches and one of the most beautiful coastlines in the Europe.
Mielno is a large coastal village in Koszalin County, West Pomeranian Voivodeship, in north-western Poland. It is located on a spit between the sea and the large Jamno lake and it is contiguous with the neighbouring resort of Unieście.
History of the village dates back to 1226 when it was described as an old Slavic settlement called Melne. The name origins from the old Slavic word "miela" meaning "shallow", "shoal" or "ford". At roughly the same time neighbouring village currently known as Uniescie was described as Vnest or Venest, serving as a cargo port for a city of Koszalin.
Over the time character of the villages and its surroundings changed and now Mielno is prominently known as one of the best Polish tourist resorts.
There are plenty of reasons why Mielno is often regarded as "Polish Ibiza" – come and see it for yourself!